The Masa Memorial Essay Contest
This year's contest is underway. This year, a number of teachers have strongly recommended that a special focus be placed on the female students, who, particularly, need to be encouraged more than their male counterparts.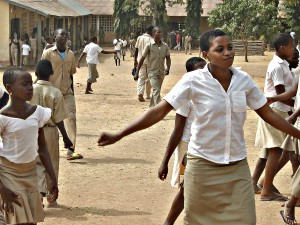 As a result, only female high school seigniors are participating in this year's contest. They're writing about what change means to them, as future leaders of their community. The topic was chosen by a small organic group of local teachers.
The papers are due in on Tuesday, May 31. There will only be 3 cash prize winners, due to our limited budget:
First place: $50.00.
Second place: $45.00.
Third place: $40.00.
This Year's Middle School Entrance Exam
The national Middle School Entrance Exam is scheduled to take place on June 15, 16 and 17, 2016. This is a big deal for our students. We will be helping 245 children of Lavie and its surroundings (from 12 schools) who will take the exam. Their ages range from 10 to 16. These candidates include 117 girls, whose pictures we've begun to post on our Facebook profile since March this year. Please visit our Facebook profile to meet all the female candidates and give each one a like.
How We Will Help These Students Do Better on This National Exam:
As we did last year, on June 14th (a day prior to the exam) we'll give each student a pen and a folder (which the students were supposed to purchase on their own and bring to the exam that day. So this will be a big help).
On June 14th, the students will each receive $1.00 (which is the breakfast allowance for the 3 exam days – about $0.25-$0.30/day).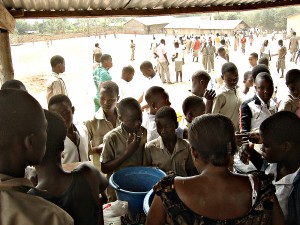 The children will buy their breakfast from the women who sell food in the school yard – of the exam center – each morning.
After the exam (when the results are in), the top 3 students of each class will receive a cash reward. The top ranked student of the entire district will receive a special reward. Here are the details:
The top ranked student in the district: $40 (x1).
First place in each class: $20.00 (x11).
Second place in each class: $15.00 (x12).
Third place in each class: $10.00 (x12).
Only 1 Month Left to Raise These Much Needed Funds
Because of your donations, last year, 75% of the students in the Lavie district passed the middle school entrance exam, compared to only 48% from the larger region. You can relive these children's joy at thechildrenoflavie.org/spotlight/. This is how far your donations, no matter how small, go. We ask you to make a donation today. Give what you can. When you do give, you help us keep growing change from the ground up.